Whether your looking for a Minnetonka landscape professional, Minneapolis landscaper or a Twin Cities landscaper we can help!
The landscape of your dreams begins with a FREE site analysis by one of GREEN SCENE's expert landscape designers. The designer will begin by listening and discussing your goals and preferences. A unique design will be tailored to your preferences and your site characteristics. Whether it's a complete renovation or just a small area to repair, GREEN SCENE clients love the results. GREEN SCENE services and expertise include the full array of landscaping services. The possibilities abound with paver walkways, patios, and driveways, perennial gardens, retaining walls, water features, beautiful Minnetonka landscape plantings with trees, shrubs, and perennials, outdoor kitchens, landscape low voltage lighting, and tree and shrub pruning.
At Green Scene Landscapes, we provide you with everything necessary. We make your landscape design ideas a beautiful reality from design to installation. Our Minnetonka landscape services include annual and seasonal container plantings, hardscapes, planting design, turf installation, and more.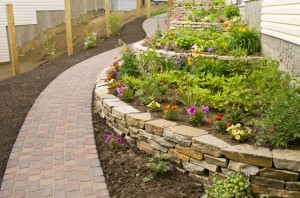 We work with many Minnetonka residential clients, Minnetonka commercial clients, and realtors in the Twin Cities. Our Minnetonka landscape designs add new life and beauty to any property along with increased value to the property. This ensures each Minnetonka landscape design project is unique; custom-tailored to every space and client. We take pride in implementing designs that create a personalized outdoor space. They are always attractive, functional, and compatible with their surrounding natural environment.
Our team of experts work closely with each client on their Minnetonka landscape design projects. We stay in communication during all phases, from concept to installation. We pride ourselves on establishing relationships with our clients. We are always available to answer questions about upkeep, maintenance, and future space additions.
Let us put our experience and creativity to work for you.  Call  952 920-3500 or email us for more information on how we can make your landscaping dream a reality.
Servicing the Following Areas:
Get a Quote Today! or Call 952.920.3500